Eid amid Shelling & Death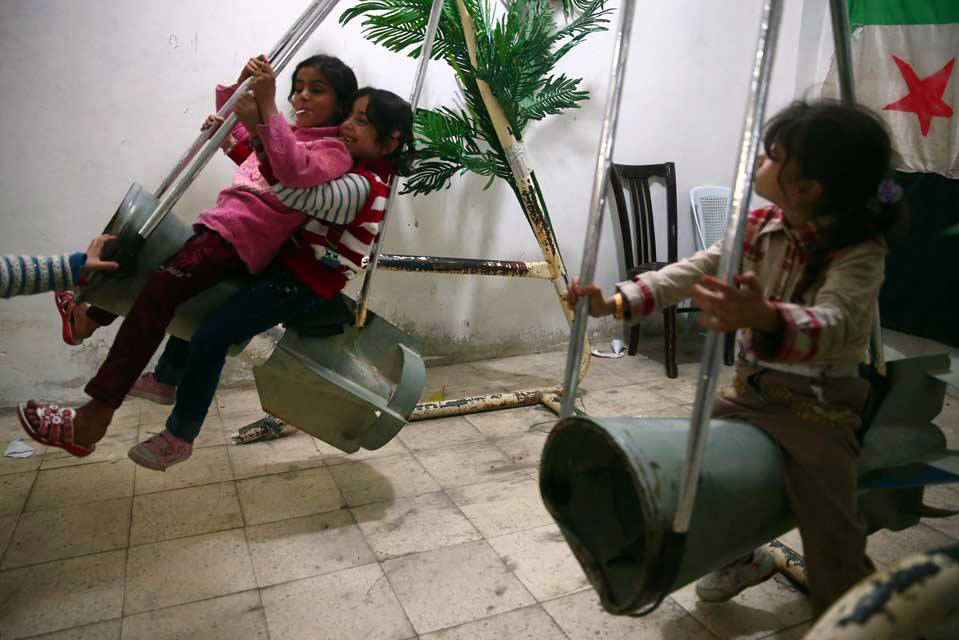 Enab Baladi Issue # 87 – Sun, Oct. 20, 2013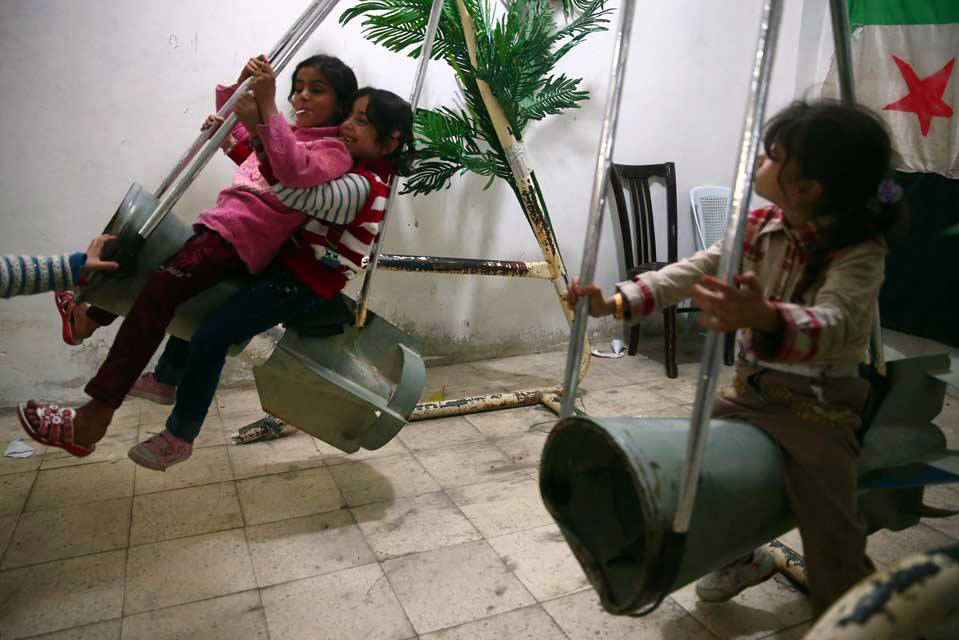 Lama Al Darani – Enab Baladi
The missiles were falling far away. Only God knew where they fell, which house was collapsed, and who was injured on the morning of Eid. Walid woke up early, the sounds of missiles became normal. A six-year-old child was used to shelling and to the sound of MIG jet. He wore the rest of his beautiful clothes, got money from his grandparent and asked his mom to pick a bunch of grapes from the tree in the farm where he was displaced for the fourth time after he left his house in Daraya eleven months ago. The bunch of grapes wasa gift for Ahmad, a friend of displacement, whom he knew recently. In that farm, there was nothing except an old swing which they used to play on daily. Because it was Eid, Walid's father held his son and his daughter's hand and took them to the swing which was placed at the end of the farm. That was Eid, nothing was new, no sweets as usual and no visits to relatives as well. The members of one family were distributed inside and outside Syria. Moreover, the barriers in Damascus countryside prevented most Syrians from going outside their homes.
In Daria, which was under siege, the gift of Eid was an air raid with MIG jets. The four-year-old child, Mohammad, who was afraid of raids, woke up with blood all over his clothes. His father was also bleeding. Someone took them to the field hospital. After Mohammad was treated, he got out his bed and went directly toward his father's bed whom hugged him strongly as the blood covered both of them. Death was a friend of all people there. It did not matter if death was from hunger, siege or rockets. People who were still in the city made swings for their children out of rocket parts. Life is going on side by side with death. In Muaddamiya Al Sham, death from hunger was the gift of Eid for its children.
In Mara Numan Countryside, the streets and houses were empty. Most of its inhabitants left their houses because of the battles and violent attacks. They went to the forest and the trees were their houses. Idlib countryside's children spent their Eid with death. Wadi Aldeef and Alhamediah battles were going on. Hamodi, a nine-year-old child, came to Rihanyya two days before Eid. He was waiting for his death after 40 days because he had cancer. Death was the close friend to Syrian children. In Mara countryside, there were no biscuits or chocolate that made children happy, in the stores. Because of the attack, the siege, and the high cost of living, children's sweets were considered unnecessary even in Eid.
In Kafranbel, the streets were completely empty and there was no celebration of Eid for the past three years. Khaled, a four-year-old-child, was happy he saw his father whom was absent for a whole week. They left their collapsed home and were displaced in a semi-house far from the city center. Because of his job, he went out early in the morning and returned at night when his children were sleeping. Every time one of the families visited them, his son and his daughter yelled with happiness "grandparents!" "uncle!". Displacement prevented them from seeing their relatives.
Refugees in the camps had other pain stories. Camp authorities prevented their inhabitants from going outside the city. Children in the camps had only the tent and the memories of their deserted homes. Mary, a mother for four kids, said that the camp authorities allowed them to go outside the camp for nine days; therefore, she came to Rihanyya to see her relatives. Her kids were happy to see the kids of the family and to meet other kids who were born either inside or outside the tent.
In Saraqp, you could not find a child or even a young person in the streets. Children went out to the streets just before the sunset when the air raids were approximately stopped. A few children bought new clothes for Eid. Most children were displaced outside Saraqp. Their games turned to stones and soil; nevertheless, they tried to rebuild their collapsed houses which they missed, to live in again. Eid did not visit them; however, they made swings on the branches of trees. In the destroyed city, there was a family that still lived there. The children were waiting for their good neighbor to give them some games just like last Eid. They waited for him on the door; however, his circumstances did not allow him to buy anything, so he gave them money and left. In Eastren Gouta, some activists had activities for children. They put some swings and games; they had face painting and drew cartoons to make them happy in Eid. In Mara Horma, some activists used the projector to display cartoons to make children happy and enable them to forget the sounds of warplanes which attacked the region. Moreover, some launched a wandering store for children's sweets and they strolled on displacement areas and passed out sweets and meat for children and people.
The gift of Eid in Tal Aran, in Aleppo countryside, was an attack that killed 13 people, most of them were kids.
اذا كنت تعتقد/تعتقدين أن المقال يحوي معلومات خاطئة أو لديك تفاصيل إضافية أرسل/أرسلي تصحيحًا
إذا كنت تعتقد/تعتقدين أن المقال ينتهك أيًا من المبادئ الأخلاقية أو المعايير المهنية قدم/قدمي شكوى