From expat to refugee – memoirs of perturbed Syrian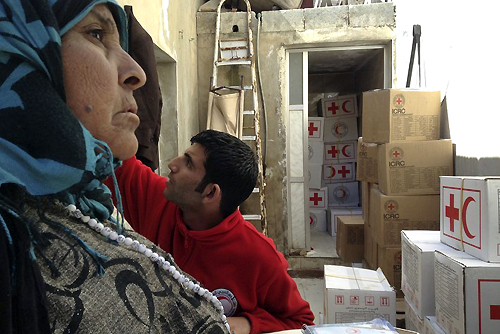 Enab Baladi Issue # 96 – Sun, Dec. 22, 2013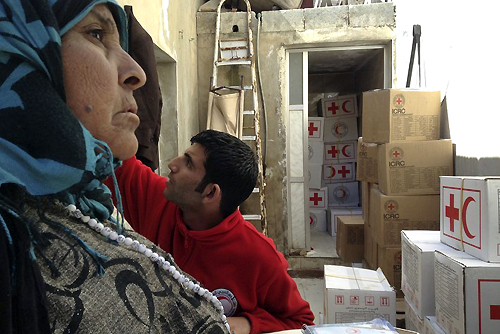 Osaymah Saleh
At yet another crossroad of life I stand to write these words. I have never written anything about other crossroads I have come to – as they weren't worthy of it: they were more normal, less tragic. We have left our country before, voluntarily, with a specific goal in mind and full of hope – hope that the future will be better and that our return home was inevitable and that expatriation will not last forever, even if time went by painfully slowly. The echoes of prayers like "we pray you come home safely and well" were enough to keep that hope alive in our hearts.
In my heart I carried many memories of everything; I carried my two children and left with tears of sadness for leaving loved ones behind. My strong belief that we will return soon and that a better life was waiting for us was my consolation. In my "caring" expatriation I was blessed with good friends and neighbors, as well as a cultural and social environment that was beneficial to my children. We would steal a month away in the summer holidays to go home where we would spend as much time as possible with loved ones and showing our children all the things we talked to them about during the year: Grandparents, the traditional swing, falafel sandwiches and the family get-together in the Old granddad's house (my own grandfather).
We were determined during our expatriation not to let the days and work take away our humanity so despite little money at first and little time later on we fulfilled our duty towards ourselves: gatherings of our small family, outings to parks and leisure activities for the kids.
This is how we spent ten years of our life. Thus I felt I was being uprooted when we decided to leave the place we had adapted to and integrated into whereby we decided to let go of the luxuries and return to our home country to enjoy the peace of mind. We were determined to make our expat life a past memory, not a future, but it seems that the latter was our inescapable destiny.
When we decided to return home, we left everything behind us. I felt the truth that day: that people will leave this world one day without prior warning.
It was only a few months after our return home that the Syrian Revolution started, carrying with it hope and glad tidings of the better future we had long dreamed of, and of an end to the comparisons my children had made often between our country and the country they grew up in. We witnessed almost a year of the Revolution – in which we could do nothing for it except sympathize and pray. My fear for my children, the eldest of whom was only 12 years old, coupled with my husband's view that the Revolution seemed like it was taking a long strayedpath lost between the politics and interests of the Superpowers, made us distance ourselves from the Revolution and limit our activities to limited secretive aid to those in need. And then we came to an extremely jolty crossroad: Daraya massacre.
The days that followed were very tough, bitter memories and a traumatizing experience. We consequently decided to leave Syria, quickly, determined to raise our children with values and skills that would equip them to serve Syria when they came back.
This departure carried emotions other than sadness – fear, anticipation, pessimism, fear that we might never be reunited with our loved ones again – that they are martyred before we can say a final goodbye. As for our children the only memories they had of the homeland was destruction and ruin. My youngest daughter literally only had memories of gunfire. Whenever she sees shelling, tanks or destruction on the television she says: "Come and see Daraya." Furthermore the prayers, unlike last time, became "May God release him from prison", "May God protect him", "May his soul rest in peace" and many other prayers which we often, anguishly, kept them inside and relapsed into silence!
The difficulty of connection was a bless in disguise… after we left we stayed in touch with our families, yet we never dared complain to them of the harshness of exile as their lives were even harder and we didn't want them to worry about us. And what is it that they would tell us… How my brother was martyred and they did not have the chance to arrange his funeral or to say a final goodbye.
A year has passed since we have been living in this socially and politically unstable society that lacks adequate education for our kids. We acknowledge and appreciate the sympathy and help of some of the locals; however, sometimes the excess of their pity reached a point where it would bother us more than anything else.
Today our fears are increasing and our worries are getting heavier as my children's education certificates may not be acknowledged since they are "refugees"; and as they are at risk of illness as there is a huge lack in medical care here. We worry that our humanity will die here, due to constantly repressing our thoughts and feelings. Fears that have landed us on a crossroad, like no other – in fact it is a strong drift, that we need to jump over in order to get to the other side and at any moment either side of the drift could collapse and our feet may slip into the water.
Unbearable pressures drove us to illegal emigration, in search of a boat that would take us to a country where we will find the basic conditions for life and the bare minimum a human requires to feel he is alive.
Feelings of fear continue to perturb us – fear that we are throwing ourselves into danger and ruin; fear that we are throwing our children into the unknown; fear that we will not return.
Translated by: Tasneem Al-zeer
اذا كنت تعتقد/تعتقدين أن المقال يحوي معلومات خاطئة أو لديك تفاصيل إضافية أرسل/أرسلي تصحيحًا
إذا كنت تعتقد/تعتقدين أن المقال ينتهك أيًا من المبادئ الأخلاقية أو المعايير المهنية قدم/قدمي شكوى