Shelling of Idlib Revives the Once Perished Claws of Illiteracy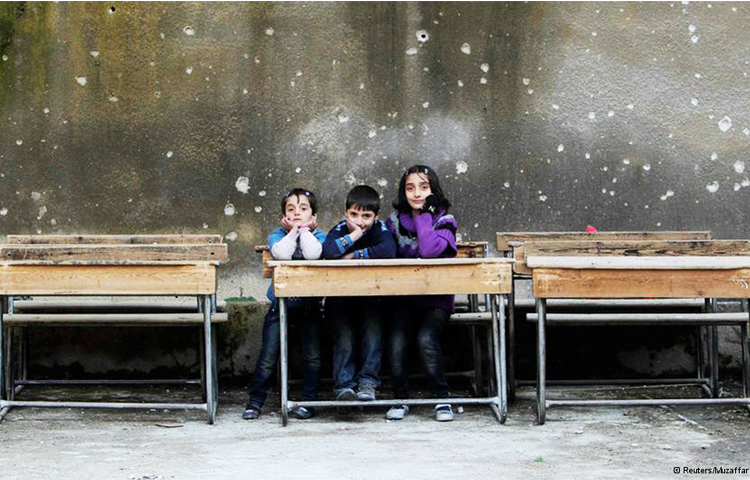 Maher Haj Ahmad – Enab Baladi
Prints Edition | Issue 178
Most Syrian children did not experience the usual state of anticipation and anguish this end of school semester, which has been missing for two or three years in a row, maybe even longer.
Meanwhile, Syria's children are worriedly anticipating barrels of explosive that may fell at the sky at any moment. Others area awaiting an opportunity for education in refugee camps. Some are incapable of tolerating the high expenses of education in the countries of refuge, or are lost in a spiral of chaos of accepting Syrian refugee children into schools or acknowledging their previous school diplomas.
Thus, 2.6 million Syrian children have been deprived of education and school attendance, said the United Nations International Children's Emergency Fund, UNICEF.
This new "wave of illiteracy" is blamed upon a multitude of factors, primarily the unsafe environment, lack of stability and the destruction of educational facilities. Therefore, all of these factors together had a negative effect on the quality of education; furthermore, fees of education are an added financial burden on refugees' income that has exhausted Syrian children as the war have turned them into family's breadwinner.
In "Kansafra", a village located in the southern countryside of "Idlib", the dilemma of illiteracy stood out clearly as an issue during "Enab Baladi's" tour of the area with the 7 schools of the village completely out of order after becoming the main targets of the "Assad" air-force and its explosive barrels, who claim that "the armed groups have taken schools as their headquarters", a claim that has been denounced by the locals.
These schools have closed down after "Assad's" artillery turned its classrooms into a rubble that is disqualified of continuing to function and practically impossible to be restored.
According to "Oubai Asaad", a local teacher, education in the village currently depends on volunteer university students, who themselves have been unable to continue their studies and are teaching children in volunteer schools set in domestic households hoping to provide the children with as much education as possible in an attempt to compensate for what they have missed out on. "Oubai" also told us "for over 2 years, our children have not been able to learn a single word, except for what they are learning at the volunteer schools, which are not a dependable substitute as many parents are refraining from sending their children to these schools fearing the almost daily shelling of the village".
"Abu Ahmad", one of locals, joins in and adds "I have 5 children who used to attend universities and schools, they all discontinued their education since the beginning of the crisis" stating that university students have been avoiding attending their campuses fearing the ongoing policy of random arrests against them, as for school students, they were forced to discontinue their studies due to the shelling and destruction of their schools; this situation also applies to many students across Syria.
The Syrian curriculum and Syrian diplomas, once among the strongest of its Arab counterparts, has lost much of its value as of 2 years into the conflict, as the quality of education has deteriorated and security disturbances allowed the spread of forgery, making the authenticity of some Syrian diplomas questionable, threatening the future of children and young adults who are being stripped of their rights of self actualization and prosperity.
The efforts being made to support the Syrian educational sector, whether inside Syria or in the countries of refuge, are still minimal in the face of the consequences it is facing, as illiteracy is menacing the future of an entire generation after 5 years of conflict.
4000 Syrian schools have been damaged, destroyed or used as shelters.
2.2 million children inside Syria are deprived of education.
Half a million Syrian refugee children are deprived of education.
30% of Syrian children in the school-age are currently in the education system, compared to 97% of them in 2010.
* Statistics from a United Nations "UN" report in November of 2013.
اذا كنت تعتقد/تعتقدين أن المقال يحوي معلومات خاطئة أو لديك تفاصيل إضافية أرسل/أرسلي تصحيحًا
إذا كنت تعتقد/تعتقدين أن المقال ينتهك أيًا من المبادئ الأخلاقية أو المعايير المهنية قدم/قدمي شكوى