Terrorism Court in Syria .. Blatant Violation of Human Rights and International Conventions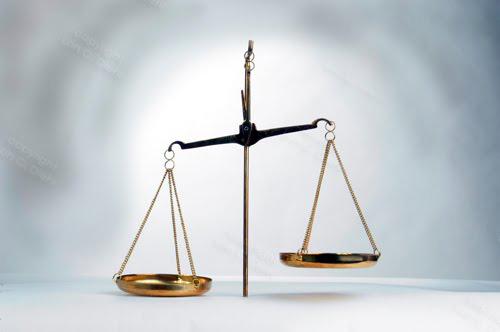 Enab Baladi Issue # 93 – Sun, Dec. 1, 2013
Joudi Salam – Enab Baladi
Piles of files stacked filling several rooms, some of them are about to reach the ceiling of the small building. It is the building of Terrorism Court in the main judicial building in Damascus, the Palace of Justice. In the court a judge is assigned to one of these rooms; there the judge oversees case files of "terrorists" from the Syrian people yet following no laws or adjudications.
On the 26th of July, the court was established as an "exceptional" court according to legislative decree No. 22 for 2012. The court was established to prove that Syria has become a den of terrorists and to convict "terrorists" and "saboteurs" through a legit court.
The advent of this court marked the beginning of a new episode of the suffering of the Syrian citizens, whose majority became terrorists according to the regime. Dozens of detainees are brought to the court every day from various intelligence branches with their files which contain confessions taken under duress and torture. These files are stacked over the previous accumulated files whereas detainees are remanded in custody in Adraa Central Prison forever.
Terrorism Court is de facto controlled by Shabbiha –Assad thugs- and takes direct orders from Mukhabarat and Intelligence Branches. Judges depend mainly on reports and files made up in intelligence branches and sent along with the detainees in the absence of any evidence to that incriminates or exonerate those detainees. The final report issued by the judge at the closing session clearly indicates that the same detainee's confessions, which were recognized by the same judge and considered valid enough to incriminate him or her, were "forced out under duress and torture", posing an apparent paradox.
It is worth mentioning that in many cases the sentence given to a detainee is already decided in security intelligence branches based on their investigation; the sentence is included in the files sent to the judge, rather than taken by judge himself. Thus, detainees are moved from regime's underground detentions to Adra Central Prison, where they serve time under slightly better human conditions. Meanwhile, the Terrorism Court's rule is limited to legitimizing taking away the freedom of Syrian citizens.
Further blatant violations of basic rights of detainees brought to the Terrorism Court is manifested through denying them the right to be represented by an attorney. Muhannad, a lawyer, says "we do not have any clue how to deal with this court; we do not have a say or any right as lawyers… we cannot look our clients' families in the eye". Muhannad added that some lawyers seized the chance to take bribes of hundreds of thousands of Syrian Pounds from detainees' families taking advantage of their weakness and lack of means, and making false pledges of their release. Whereas judges have the bigger share of these bribes; they take bribes for simple cases; whereas they themselves do not have the power to intervene in more serious cases, or to sign the release of any detainee unless it was indicated in his or her file sent from the intelligence branch, even paying millions of Syrian Pounds does not work such situations out.
Only a visit to Terrorism Court is enough to reveal to the visitor the immense suffering endured by Syrian citizens there. Endless queues of men and women line up under the vagaries of weather, waiting to meet one of the court's judges for only a minute in order to ask about a missing person that is most probably detained by the regime, to get a visitation application, car release application, or any other confiscated properties during detention. Most of the time judges refuse to meet civilians and thus many people spend the day waiting in vain; however, they helplessly show up the next day to try again.
When detainees are released after a trial in Terrorism Court they are deprived of all civil rights, fired from their jobs, and all their movable and immovable properties are confiscated. Hence the suffering of these civilians does not end with their release from Adra Central Prison, the prison which is overcrowded with detainees, both men and women, moved from underground detentions through Terrorism Court, which poses the question "from where did all these terrorists come?"
اذا كنت تعتقد/تعتقدين أن المقال يحوي معلومات خاطئة أو لديك تفاصيل إضافية أرسل/أرسلي تصحيحًا
إذا كنت تعتقد/تعتقدين أن المقال ينتهك أيًا من المبادئ الأخلاقية أو المعايير المهنية قدم/قدمي شكوى